[Click here if you don't see frames]
Dune was formed in 1995, when Jens Oettrich and Oliver Froning(then under the name DJ Raw) met, and decided to start a techno project. There wasn't a lot planned for the group; just to release a single and that would be the end of it. After meeting with producer Bernd Burhoff, the trio produced and released the first Dune single ever, Hardcore Vibes. The single sky-rocketed on the charts to the #1 spot, being played in every club in Europe. The three took up the name Dune(a name derrived from the Frank Herbert science fiction novel of the same name), and decided to continue with the project.
For the second single to be released, a singer was needed, so the group temporarily hired singer Tina Lagao to sing the vocals for Are You Ready to Fly, a cover song of European dance singer Rozella. The single was another hit, and it was decided that the time had come to produce a full album. Dune's self-titled album was released in 1995, with Tina Lagao's vocals being used for the songs that required vocals.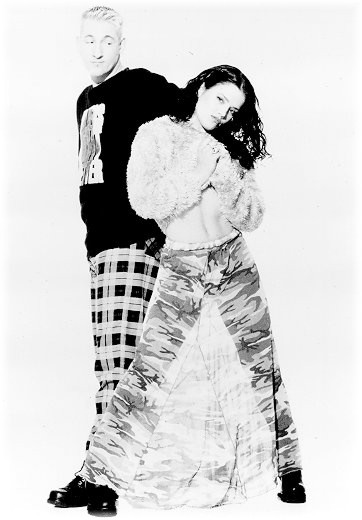 Dune was enjoying much success with their first album, but, for a follow-up album, they decided to change things around. Their sound would take on the style referred to as Happy-Hardcore, and, for this, they would need to take up a lead singer. The one chosen to be the new singer of Dune was Verena von Strenge, a dancer for the group. For the second album, Jens stepped back to behind the scenes work, and Oliver & Verena became the new "face" of Dune. The first single recorded with Verena was a remake of a Dune song from their first album, Can't Stop Raving. With the vast success of this single, it was clear that the choice of Verena as singer was an excellent one.
The new Can't Stop Raving never made it on the second album, however. The group's first single from the new album would be Rainbow to the Stars. After seeing Rainbow...'s success, Expedicion, the group's second album was released. The tracks on this album differed from the tracks on the first album because there were more like upbeat dance songs than techno. The techno was still there however, and the Dune style everyone loved, remained. In this album, Dune showed that they could not only produce upbeat songs, but could also produce slower songs, like track five, So Beautiful.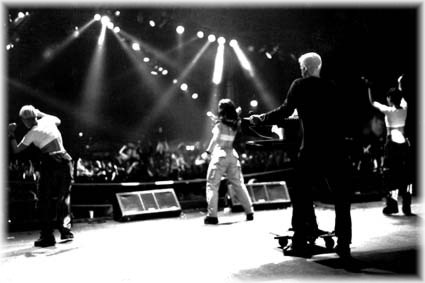 Other singles included Hand in Hand and Million Miles From Home, the latter of which became so popular, it was chosen to be the official song for the 30th "birthday" of Star Trek. The singles, as well as the album, topped the European charts.
Live! was the third album recorded by Dune. This was from a live performance in Rastatt, Germany, on Verena's 21st birthday. This third album gives fans a chance to hear what it's like to be at one of Dune's concerts.

Shortly after the release of Live!, Verena announced that she would be leaving the group in order to persue a solo career. As a farewell gift to Verena, Dune joined with Will Malone and the London Session Orchestra to record Who Wants to Live Forever, a cover of an old Queen classic. At first, that was to be the only song recorded with the orchestra, but, because of contract problems, Verena wouldn't be able to begin her solo career right then, so the group went back into the recording studio and recorded a fourth album, Forever. This album contained eight cover tracks of the group's favorite songs, as well as eight original piano compositions by Oliver. The covered songs include: Against All Odds[Phil Collins], Sea Song[Robert Wyatt/Tears For Fears], Somebody[Depeche Mode], Winter Kills[Yazoo], The Power Of Love[Frankie goes to Hollywood], Hide & Seek[Howard Jones] and Nothing Compares 2U[Sinead O'Connor].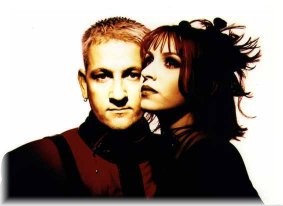 After Verena's departure, Dune fell into a deep silence. The three remaining members were in search of a new lead singer. It was taking so much time that people didn't think Dune would be returning; they were proved to be wrong. Dune suprised fans with their return, bringing with them new singer, Vanessa Hörster. With Vanessa, the singles Keep the Secret and Electric Heaven were released. With these two singles, Dune combined the sound of 90's techno with 80's electronic music. Unfortunately, the songs didn't reach very high on the charts, so the planned album 5 was not released.
Vanessa left the group after production on 5 ceased(rumor has it she went to school to study fashion design, but no official news was released to either confirm or deny this). Once again, Dune had to find a new lead singer to take the place of Vanessa. Fans waited in anticipation, wondering who the new singer would be; if there would even be one. Dune had lost two singers, and fans didn't know what to expect. In an interview during this time, Oliver reported that there were many people that auditioned to be the replacement singer, and that he looked over each of them carefully. The new singer had to be an exceptional singer.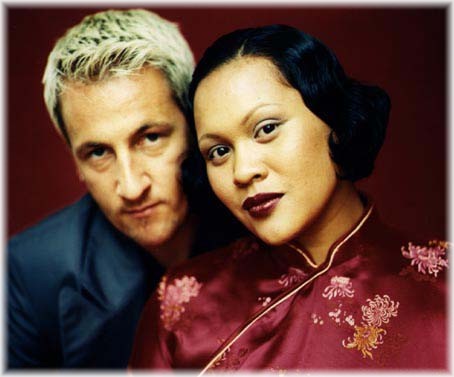 A new singer was eventually found; Tina Lacebal sang for Dune's fifth album, Forever & Ever, where Dune once again joined Will Malone and the London Session Orchestra. The only single from Forever & Ever is One of Us, released in October of 1998. Like Forever, the album included eight cover tracks, as well as eight original piano compositions written by Oliver. The album didn't achieve much success; to many fans, Dune needed to go back to it's techno style, and bring back Verena as singer.

1999 brought along another Dune evolution. After a year of silence, Dune was back, and the way fans wanted them to be. Oliver and Verena had crossed paths earlier in the year. Both had felt the crush of unsuccessful music(Verena with the low record sales of her 3 solo singles, and Oliver with the low ratings of the Vanessa singles and Forever & Ever), and knew the best music was produced when they worked together. Most fans believe that this is the way it should be; that Dune is not Dune without Verena & Oliver together. They released a new single, Dark Side of the Moon which re-ignited many fans interest in the group. Reunion was announced to be the upcoming 6th album of Dune. The group would release another single, and then, in March of 2000, the new album was to be released. Unfortunately, things didn't work out that way.
The group released a second single, Heaven on the radio, but soon after faced a lawsuit(see Story Of Heaven for details) which left them unable to release the new single. Silence fell over the group, and not many knew what was going to happen...

But then, finally, on September 13th, 2000, after months of questions and rumors, the official Dune site was updated, and answers were posted. Dune was still in existence, and in response to a rumor circulating, it was announced that Verena was still very much a part of Dune. The new single would be the rumored Dune vs Trubblemaker: Hardcore Vibes 2000, and the new album would be a 'best of' album entitled History: The Very Best Of which would contain not only Dune's greatest hits, but also three new tracks with Verena as vocalist; Here I Am, Space Invaders, and Back to the Future. Hardcore Vibes 2000 was released in October of 2000. On October 23rd, History... was released, and included with it was a Dune computer game.
Since the release of History... Dune has fallen into a silence. No one is sure as to what exactly the group is working on, but most have their suspicions; that a new album is being worked on. But, only time will tell...